July 20, 2021
OAK BROOK, IL. – The Illinois Municipal Retirement Fund (IMRF) today announced that Angela Miller-May will be the organization's next Chief Investment Officer (CIO). Her start date is August 16.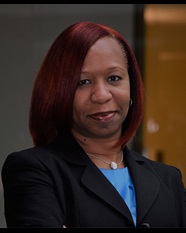 Miller-May joins IMRF – Illinois' best-funded statewide public pension – from the Chicago Teachers' Pension Fund (CTPF), where she serves as the organization's CIO. Prior to joining CTPF, Miller-May worked in the financial services industry, including for the Chicago-based Northern Trust Company. She holds an MBA from DePaul University, and a BA from Northwestern University.
The IMRF CIO is responsible for IMRF's $54 billion investment portfolio. The position oversees asset allocation policy, as well as investment manager selection and performance monitoring. The CIO manages a staff of 16 IMRF investment professionals, who partner with more than 100 investment management firms.
A special committee – made up of IMRF Executive Director Brian Collins and representatives from the IMRF Board of Trustees – conducted a nationwide search for a successor to former CIO Dhvani Shah. Candidates from a variety of industries were considered, including from both the private and public sectors. The position attracted more than 100 applicants.
Miller-May is a nationally recognized pension industry leader. She has received Women Investment Professionals' "Distinguished Woman Investment Professional of the Year" Trailblazer Award and Institutional Investor's "Change Maker of the Year" Award. In addition, she has been named one of Crain's Chicago Business "Notable Women in Finance" and one of Trusted Insight's "Top 30 Public Pension Chief Investment Officers." She is also consistently sought out for her expertise by major media outlets like C-NBC and the Wall Street Journal.
"Our members, employers, and taxpayers should be excited about someone who is going to be an outstanding steward of their money."
- Brian Collins, IMRF Executive Director
Collins said that all IMRF stakeholders should be encouraged by Miller-May's hiring. "Angela is well-respected and recognized across the state and the nation as a very keen financial mind, with a great track record of investing success over the last decade," Collins said. "Our members, employers, and taxpayers should be excited about someone who is going to be an outstanding steward of their money."
At CTPF, Miller-May made significant progress diversifying its roster of investment partners to include more firms owned by minorities, women, and persons with a disability. This is an area of strategic focus for IMRF, Collins said, adding that Miller-May will amplify the impact of related organizational initiatives.
Miller-May thanked Collins and the IMRF Trustees for the opportunity to join IMRF, the only public pension fund in the nation to win the presidential-level Malcolm Baldrige National Quality Award.
"It's an honor to join an institution that embodies excellence and values a culture of collaboration, teamwork and diversity. I am so excited to hit the ground running next month," Miller-May said. "Every day, I am going to be laser-focused on seeking out the very best investment opportunities and investment partners, to help IMRF deliver on its pension promises to Illinois' public servants, while keeping costs manageable and predictable for our participating units of government."
###
ABOUT IMRF
Headquartered in Oak Brook, IL., IMRF is the best-funded, statewide public pension plan in Illinois. Since 1941, IMRF has partnered with local units of government to provide retirement, disability, and death/survivor benefits for public employees. With a funded status of about 94% and more than $54 billion in assets, IMRF is financially sound and sustainable. As Illinois' second-largest pension plan, IMRF serves more than 440,000 members and more than 3,000 units of government, including counties, cities, towns, villages, libraries, park districts, and non-teaching personnel in local school districts. IMRF's diversified portfolio includes domestic and international equities, fixed income, real estate, and alternative investments.