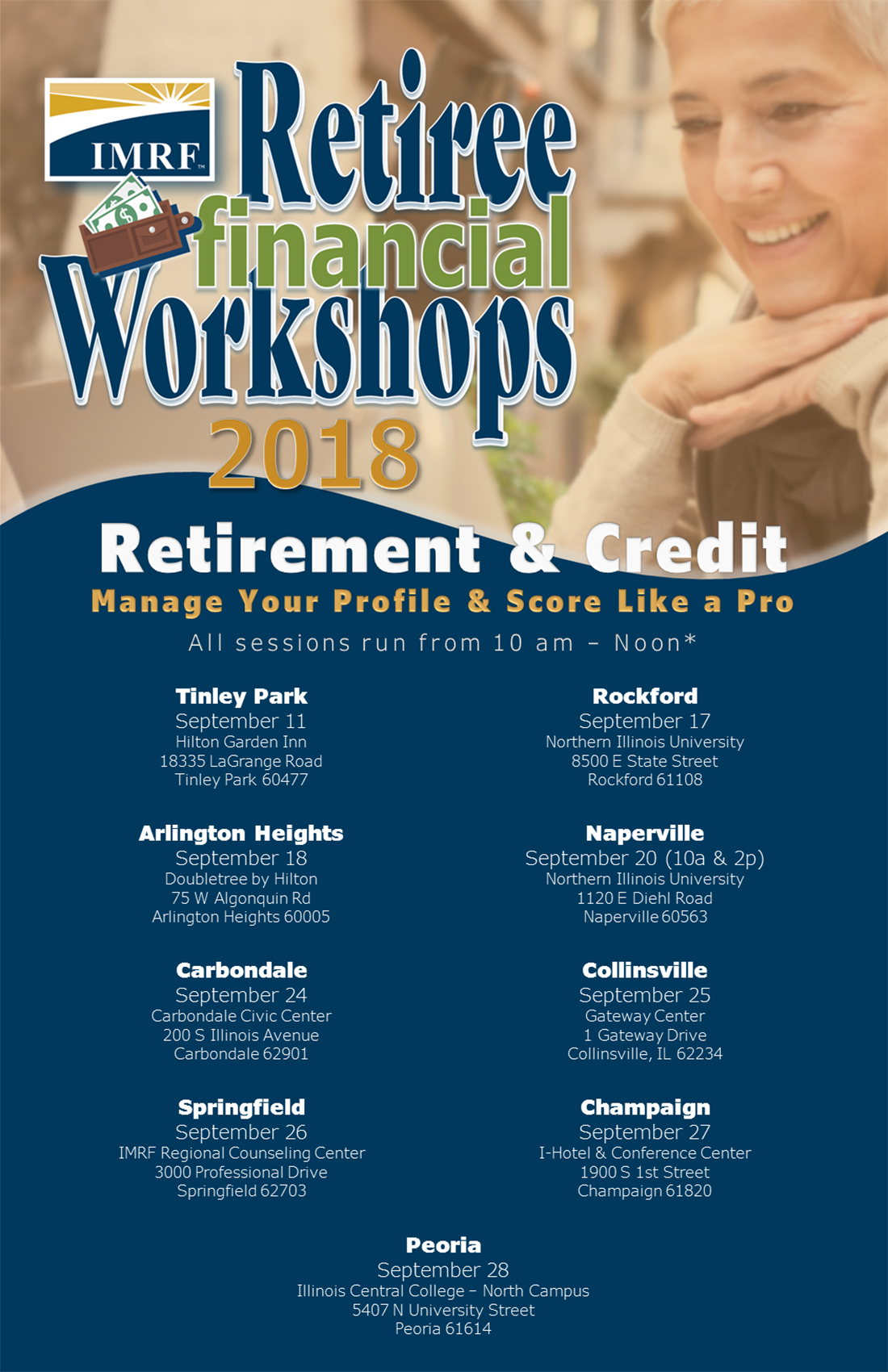 Current Workshop Series
Fall - Financial Literacy
Managing Your Credit History, Credit Score & Info... Like a Pro
How does cancelling a credit card, paying off a debt, or having too much debt affect my credit history and score? Should I use a fraud alert, a credit freeze, or a lock to protect my information? What are the best strategies for paying down debt?
Financial educator and consultant, Karen Chan, CFP (R) will share best practices for managing these necessities in retirement. Plus, learn to differentiate facts from fiction and myths from realities, when it comes to credit reporting and you.
•Sessions are approximately two hours long
•Registration is required for all attendees and guests
•Admission is free of charge
Remember, all workshops are free of charge and open to the public, but registration is required. If you are not an IMRF retiree and would like to attend a workshop, or if you have questions, call us at 1-800-ASK-IMRF (1-800-275-4673). Space is limited and reservations are on a first-come, first-served basis.
We look forward to seeing you at a workshop in your area!
Most Recent Workshop Series
Summer - Lifestyle
WITS Workout
Facilitated by the educators of the University of Illinois Extension Office
Two-hour sessions
Registration was required for all attendees and guests
Admission was free of charge
This workshop was a daytime, two-hour presentation from IMRF and the University of Illinois Extension Office's Family Life Educators. Facilitators in eight different locations highlighted the benefits of keeping your mind busy long after retirement.
According to the American Association of Retired Persons (AARP), "Americans 50 and older are worried about losing mental capacity." The organization also says its research determined that that mental sharpness is a top concern with aging and that brain exercises have shown positive results.
Facilitators showed seniors how to utilize various tools to keep their minds sharp and healthy; stressing that mental fitness is just as important as physical fitness.
This year's series ran from August 7 through August 30. This is IMRF's eleventh year of partnership with the U of I Extension through retiree lifestyle workshops; the series collaboration began in 2008.
No match was found for your search criteria.