Welcome to IMRF!
Your IMRF membership is a major financial asset, so it's important to understand your account.
What is IMRF?
IMRF is a defined benefit plan that provides a lifetime of income protection. Your IMRF benefits include:
Retirement benefits
With enough time and service credit, you can become eligible for an IMRF pension. You never outlive your IMRF pension—it is payable for life.
Disability
Your IMRF benefits include disability protection if you become disabled. IMRF provides two types of disability benefits: temporary, and total and permanent.
Death benefits
IMRF provides certain benefits to your beneficiaries if you pass away.
What are the details of my benefits?
Your specific benefits and eligibility requirements depend on your plan and tier.
Not sure what plan and tier you're in? Your welcome letter includes your plan and tier. You can also read more about plans and tiers here.
As a new member, what do I need to do first?
Before you do anything else:
Read your welcome letter.
Activate your Member Access account using the registration key provided in your welcome letter. Click here to begin.
Once you have signed in to Member Access:

Update your personal information
Protect your loved ones by entering your beneficiary information
Register for a "Your Glass is Half Full" workshop to learn more about your benefits. View the current schedule here.
A pension is great, but how can I save more for retirement?
IMRF's Voluntary Additional Contributions (VAC) program is an easy way to save more for retirement! Here's an example of how VAC can increase your retirement savings: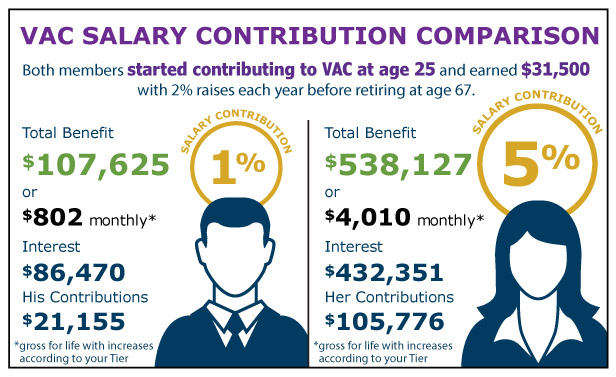 Select your plan/tier under "Members" in the menu at the top of this page, and then click "Voluntary Additional Contributions" to learn more!