As an IMRF Authorized Agent, you serve as an essential link between your employer, your IMRF members, and IMRF.
Below you will find many of the resources you'll need to perform common Authorized Agent tasks.
Employer Access
Employer Access is the secure area of IMRF's website where you will manage most of your essential administrative tasks. With your Employer Access account, you can report wages, enroll and manage members, view and upload member and employer documents, and much more.
The Employer Access Learning Center
For information on common Authorized Agent tasks, see the Employer Access Learning Center.
Workshops
IMRF offers a variety of workshops on topics of interest:
Employer tasks and forms
This area of IMRF's website has information about an Authorized Agent's most common tasks. Start by clicking Employer Tasks and Forms from the Employers menu.
Two of the items in the submenu may be of particular use:
Making payments to IMRF – As a new Authorized Agent, you may be responsible for making your employer's payments to IMRF. This page explains how to use Electronic Fund Transfer (EFT) through First Data Government Solutions.
Employer checklists – These checklists make Authorized Agent responsibilities easier by taking you through each process step-by-step. Checklists for the following topics are available: should this employee be enrolled in IMRF, how to enroll employees in IMRF, disability, retirement, death, and termination.
Authorized Agent manual
The Authorized Agent manual serves as a guide for Authorized Agents and other employees involved in the local administration of the Regular and Sheriff's Law Enforcement Personnel (SLEP) plans. You can use it to view sample filled-in forms to help you file complete and accurate reports.
The manual explains the:
Rules for determining IMRF qualified positions (which employees should be enrolled in IMRF)
Requirements for making claims for benefits (the forms and documents a member needs to apply for a benefit)
Procedures for filing reports of earnings and contributions (how you would submit members' wages and contributions to IMRF)
Employer Digest
The monthly Employer Digest newsletter is sent to all Authorized Agents.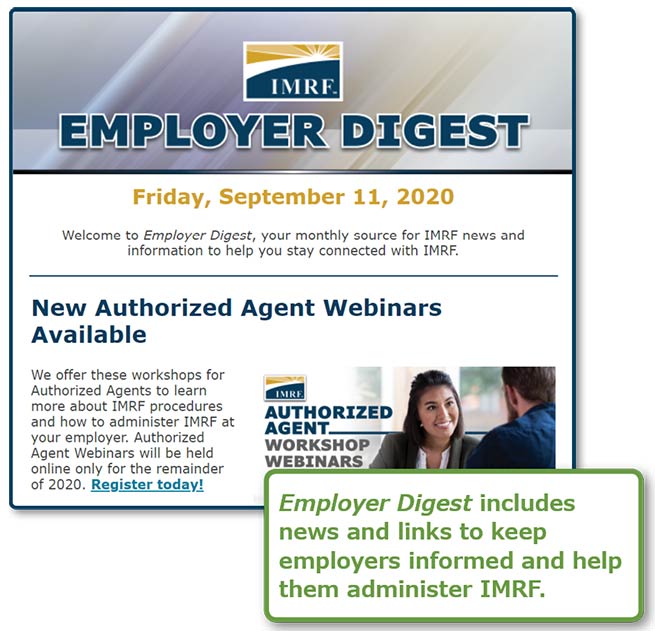 Voluntary Additional Contributions plan
IMRF's Voluntary Additional Contributions plan can help members save additional money for retirement (pdf file).
Working after retirement
Important return to work rules explain what you need to know if you are considering hiring an IMRF retiree. Members can face serious financial consequences if they don't follow the laws that apply to receiving a public pension while working for a public sector employer.
IMRF-endorsed insurance plans
To give members access to insurance plans with discounted group rates, IMRF works with insurance consultants. An IMRF-endorsed insurance plan is a plan offered by an insurance consultant that has been reviewed and approved by IMRF's Board of Trustees.
Find your Employer Representative
IMRF Employer Representatives work with employers to assist them with IMRF related questions. IMRF Employer Representatives also conduct employer workshops and other informational presentations. Log into Employer Access and look at the "My IMRF Team" widget to see who your Employer Representative is.