Welcome to the Year of the Volunteer!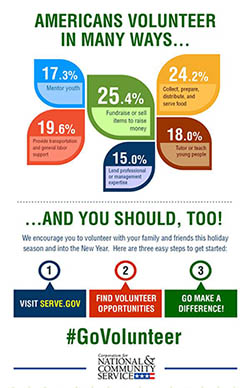 IMRF, the best-funded public pension plan in Illinois encourages members over the course of 2015 (both active and retired) to celebrate and support the Year of the Volunteer, by taking an active role to increase the impact of volunteer service in IL.
Through this communication platform, IMRF will share materials and information on the Year of the Volunteer and how members can use the material provided to support the movement in 2015.
The theme for the Year of the Volunteer is "You are the Difference," which aims to inspire more Illinoisans to volunteer their time. Despite the benefits to both the individual and the community, the 2014 Volunteering in America report shows that volunteerism is on the decline nationally. In Illinois, only 26.7% of the population volunteered in 2013, which ranked Illinois 26th among the 50 states and Washington D.C.
Through this initiative, IMRF hopes to build awareness among its members (both active and retired) on the importance of volunteerism and encourage intergenerational engagement to create an impact and difference in the communities they live.
Make a Difference!
IMRF thanks everyone who took the time to participate and share their volunteer profile stories, as a part of the 2015 Year of the Volunteer initiative. More than 50 stories were submitted to IMRF from across the state. Out of the stories submitted, IMRF has selected these top seven volunteers, whose stories exemplify the 2015 Year of the Volunteer theme, "You are the difference."
Domingo and Blanca Mata, Carpentersville, IL
IMRF would like to congratulate and thank the top seven volunteers for making a difference in their communities. We are thrilled to recognize these top seven stories. Stay tuned for the profiles of the top seven volunteers. We will be promoting our first volunteer story in June.
If you have any questions or comments, please send your query to volunteer@imrf.org.
For media inquiries, please contact Megha Kauffman at mkauffman@imrf.org or call (630) 706-4511.