January 21, 2020
Dhvani Shah, IMRF Chief Investment Officer, is in CIO Magazine's 2019 Power 100. She is one of 24 public pension CIOs included on this year's list of the 100 most influential chief investment officers.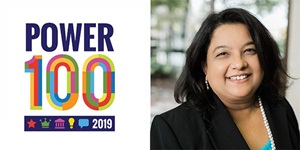 CIOs on this list have "distinguished themselves in navigating a changing, and often perilous, market landscape," according to CIO Magazine. "Along with their ability to innovate, some CIOs moved up the list when influence was added into the formula of factors. Their ability to collaborate also continues to play an important role." To determine the Power 100, CIOs are evaluated in the following categories: Innovation & Influence, Collaboration, Talent Development, Fund Size, and Tenure.
Please join us in congratulating Dhvani on this impressive accomplishment.
View the 2019 Power 100 list here.