February 10, 2022
IMRF Announces Preliminary Financial Results For FY 2021
IMRF more than doubled its 7.25% investment target during the most recent fiscal year ending December 31, 2021, according to preliminary figures released by Illinois' best-funded statewide public pension plan.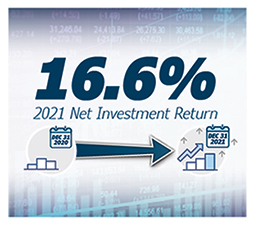 Financial Highlights
During 2021, IMRF:
earned an investment return of 16.6% after paying investment-management fees.
grew investment portfolio by $6.5 billion, from $50.3 billion on December 31, 2020, to $56.8 billion on December 31, 2021.
increased its actuarial funded status to 98.8%.
These figures are estimates and unaudited. IMRF will share final figures in its Fiscal Year 2021 Annual Comprehensive Financial Report.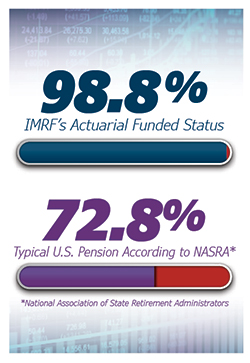 IMRF Is Nearly 100% Funded
Funded status is a key barometer of a pension plan's fiscal health. The typical U.S. pension plan is about 72.8% funded, according to the National Association of State Retirement Administrators. IMRF's 98.8% funded status means it has on hand today nearly all the money needed to pay the entirety of its pension obligations to all current retirees and active workers.
IMRF Executive Director Brian Collins said that the organization's financial health should give all stakeholders confidence the fund will deliver on its mission of providing retirement, disability, and death benefits to its more than 442,000 members.
"The fund's best-in-class financial condition means that members can rest easy knowing IMRF will make good on all of its benefit promises," Collins said. "Our 2021 investment success is a win for everyone."
Investment Returns Lower Municipal Government Contributions
IMRF contributions from local government fluctuate based on the fund's investment performance. When IMRF exceeds its assumed annual rate of return of 7.25%, the money needed from local government in future years decreases. The average IMRF Regular Plan contribution rate fell from 12.42% of local government payroll in 2012 to 8.59% in 2022, a decrease of more than 30%.
Markets Struggle In Early 2022
While the 2021 fiscal year was highly successful, the value of the IMRF investment portfolio fell to $54.6 billion at the end of January. Many investment professionals anticipate a market downturn in 2022 as the economy adapts to rising interest rates, price inflation, and the impact of the COVID-19 pandemic. As a perpetual entity that has existed since 1941, IMRF is a long-term investor able to navigate market downturns.
"IMRF doesn't invest the way an individual does with a target date in mind," Collins said. "With its long-term investment time horizon, the pension fund will manage its way beyond any challenges 2022 brings."
###
ABOUT IMRF
Headquartered in Oak Brook, IL., IMRF is the best-funded, statewide public pension plan in Illinois. Since 1941, IMRF has partnered with local units of government to provide retirement, disability, and death/survivor benefits for public employees. With a funded status of 98.8% and $56.8 billion in assets, IMRF is financially sound and sustainable. As Illinois' second-largest pension plan, IMRF serves more than 442,000 members and more than 3,000 units of government, including counties, cities, towns, villages, libraries, park districts, and non-teaching personnel in local school districts. IMRF's diversified portfolio includes domestic and international equities, fixed income, real estate, and alternative investments.