April 2, 2019
OAK BROOK, Ill -- On Thursday, March 28, the Illinois Municipal Retirement Fund (IMRF) won the 2019 Plan Sponsor of the Year Award at PLANSPONSOR Magazine's Excellence in Retirement Awards ceremony in New York City. The magazine recognized IMRF as the top public defined benefit plan in the United States.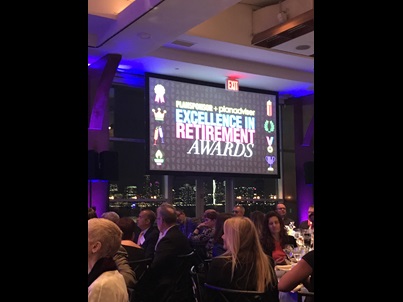 "The Plan Sponsor of the Year annual award program recognizes retirement plan sponsors that show a commitment to their participants' financial health and retirement success," according to PLANSPONSOR. "The award is given in many categories to recognize all plan types, so any plan sponsor can be eligible."
IMRF, serving public employees in Illinois communities since 1941, earned this year's designation for a high funding level, disciplined investment approach and focus on continuous improvement.
"This is a great honor and it means a lot to us because it shows that a defined benefit plan can work," Executive Director Brian Collins said.
Upon accepting the award at the semi-formal event at Chelsea Piers, Pier 60 in New York City, Collins shared his gratitude for the retirement plan's employees, public workers, and professional partners in communities across the state.
"I want to thank all of the men and women at IMRF who work so hard every day to ensure that the 420,000 members we serve will have the retirement plans that they so richly deserve," Collins said. "I also want to thank the 3,000 communities across the state who trust us to make good on the pension promises we've made, and I also want to thank our board of trustees for their guidance throughout the years."
Held annually, this networking event celebrates the accomplishments of the best of the best in the retirement plan industry. Each year, PLANSPONSOR honors the nation's leading retirement plan sponsors and advisers, as well as the top product, investment and service providers.
At the close of 2018, IMRF was 90 percent funded on an actuarial basis and held $38.7 billion in assets.
One of two noteworthy finalists, IMRF went head-to-head with the nationally-recognized Missouri Local Government Employees Retirement System (LAGERS) for this year's top spot. "It's an honor to be in such good company," Collins said. "What a joy to know that two Midwestern states are leading the way for public defined benefit plans, nationwide. We are proud to share this award with our team and our neighbors at LAGERS."
This is IMRF's second recognition from PLANSPONSOR within the last four years, as the plan earned a "Standout" award from the magazine in 2016. This special category applauds a retirement plan's "richness of program offerings, commitment to the program, leadership and innovation."
Read more about the magazine, the award, the categories, and the criteria for finalists on the PLANSPONSOR website.
###