November 17, 2017
Chicago-native Brian Collins to succeed retiring Executive Director Louis W. Kosiba
The IMRF Board of Trustees today announced the hiring of City of Memphis Chief Financial Officer and Director of Finance and Administration Brian Collins as the organization's next executive director.

Collins' hiring concludes a nationwide search to identify a successor to IMRF Executive Director Louis W. Kosiba, who is retiring at the end of the year. Collins' start date is January 8, 2018.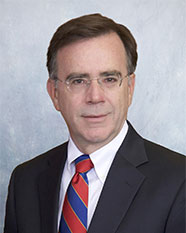 Collins will become just the seventh Executive Director of IMRF – the second-largest, and best-funded, statewide public pension in Illinois – since it began operations in 1941.

Collins said that he was honored to be named IMRF's next executive director.

"With a funded status near 95 percent and top quartile customer service, IMRF is a national leader in the public pension industry," Collins said. "I'm excited to partner with the Board and staff to continue to achieve our Vision of providing the highest quality retirement services to our members, their beneficiaries, and employers."

As Memphis' Chief Financial Officer, Collins reports directly to the mayor and is responsible for all financial functions of the city. He has deep knowledge of public pensions, having played a key role in the improved financial condition of the City's pension plan in recent years. He is also a former adjunct professor and member of the graduate faculty at the University of Memphis Department of Finance, Insurance and Real Estate.

Before joining the city in 2012, Collins spent more than 20 years in banking at First Horizon National Corp., Citigroup, and J.P. Morgan, and a decade working in commercial litigation in Chicago.


A native of the South Side of Chicago, Collins holds a B.A. in Political Science and Economics from DePaul University, an M.B.A in Finance and Accounting from The Ohio State University, and a J.D. from Loyola University of Chicago.

IMRF Board of Trustees President Sue Stanish said that the Board was attracted to the depth and diversity of Collins' professional experience.

"He has worked at the highest levels of both municipal government and the private sector; he has a background in both finance and the law; he has experience successfully partnering with external stakeholders, including politicians and the media; and he knows public pensions," Stanish said. "Brian is ready to lead this organization to even higher levels of achievement."
About IMRF
Headquartered in Oak Brook, IMRF is the best-funded, statewide public pension plan in the Land of Lincoln. For 76 years, IMRF has partnered with local units of government to provide retirement, disability, and death/survivor payments for public employees. With a funded status of about 95 percent and more than $40 billion in assets, IMRF is financially-sound and sustainable. As Illinois' second-largest pension plan, IMRF serves 410,000 members in nearly 3,000 units of government, including counties, cities, towns, villages, libraries, park districts, and non-teaching personnel in local school districts. IMRF's diversified portfolio includes domestic and international equities, fixed income, real estate, and alternative investments. The average member who retired in 2016 is receiving a monthly pension of $1,771.