October 16, 2017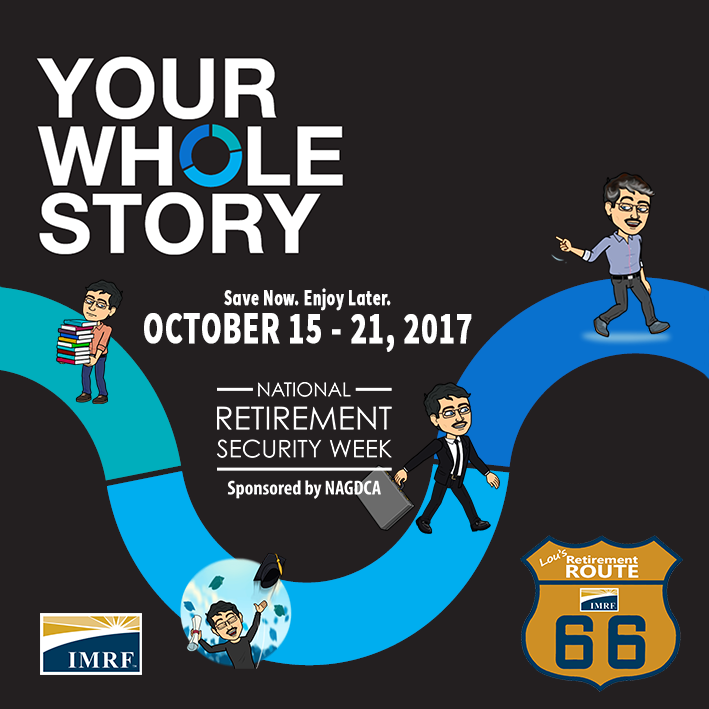 Once again, the Illinois Municipal Retirement Fund (IMRF), the state's second-largest public pension plan, encourages Illinoisans of all ages to prepare for the future during National Retirement Security Week, October 15-21, 2017.
This year's theme, Your Whole Story, focuses on increasing awareness across generations, because according to the National Institute on Retirement Security (NIRS), nearly half of working American households have no retirement savings.
IMRF's retiring leader, Executive Director Louis W. Kosiba, reminds active members and other working adults in Illinois that saving a little money now, really pays off. "Even workers who are guaranteed to receive pensions should remember that most payments are only percentages of what they currently earn," says IMRF Executive Director Louis W. Kosiba. "For example, if you earn $3,000 monthly now, and your pension percentage is 66 percent, your new household income will be reduced to $1,980. That difference represents housing payments, vacation spending money, and most importantly, necessities."
Kosiba, is featured in IMRF's promotional campaign, in Bitmoji form. The official materials follow a parallel path with "Lou's Road to Retirement," a journey with him, as he prepares for his last day on December 31. The co-branded materials serve as perfect vehicles to share messages about saving for the future.
Observed annually during the third week of October, this initiative originally launched in 2006 as "National Save for Retirement Week." This seven-day period "provides an opportunity for employees to reflect on their personal retirement goals and determine if they are on target to reach those goals," according to the International City/County Management Association (ICMA). The organization offers simple, straightforward tips for every age group.
IMRF assists members with pre-retirement information through Personal Benefits Reviews and workshops throughout the year. Member Services partners with professionals to offer annual financial literacy workshops to retirees statewide. The IMRF website also features digital account access and online calculators with unlimited input options to help create customized pension estimates.