Manage Your Account With Employer Access
Employer Access allows you to perform essential administrative tasks quickly and easily. With your Employer Access account, you can report wages, enroll and manage members, view member and employer documents, make payments to IMRF, and much more.
Topics on this page:
(Click the links below to learn more about a topic)
Your home page
After you log in, your home page links to where you can perform a variety of essential tasks. You can go back to this page by clicking the "Home" button from any other page in Employer Access.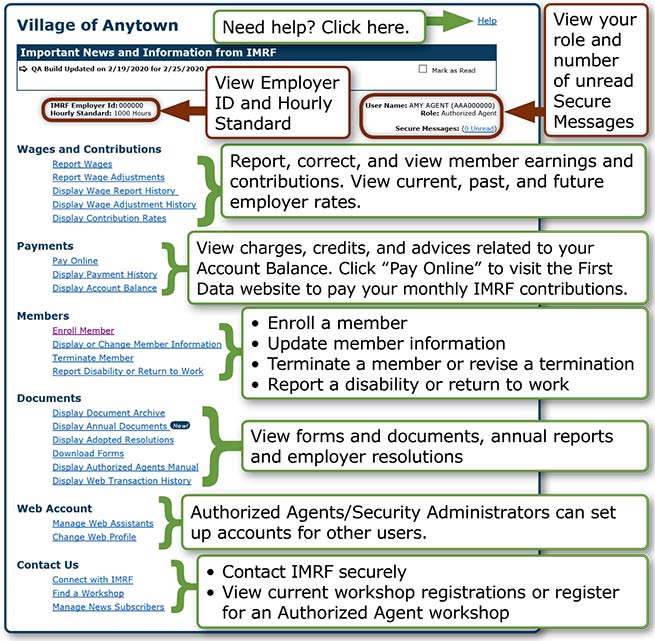 Quick Links
The Quick Links menu helps you perform some of your most common tasks more quickly. Find it on the right side of any page in Employer Access.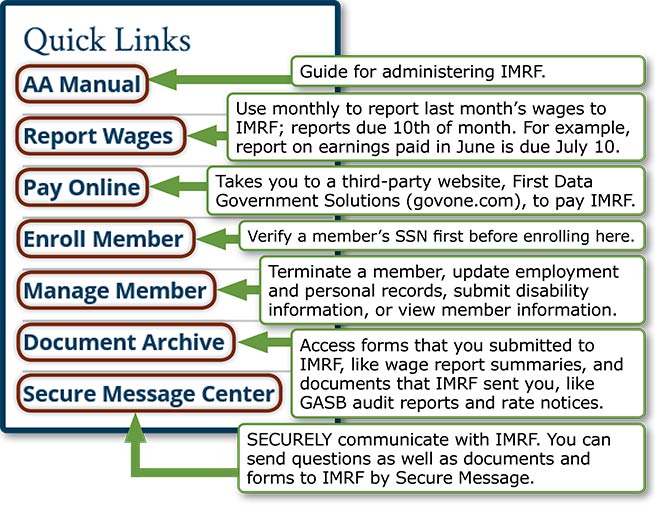 Wage Reporting
This page lets you import and edit IMRF wage reports.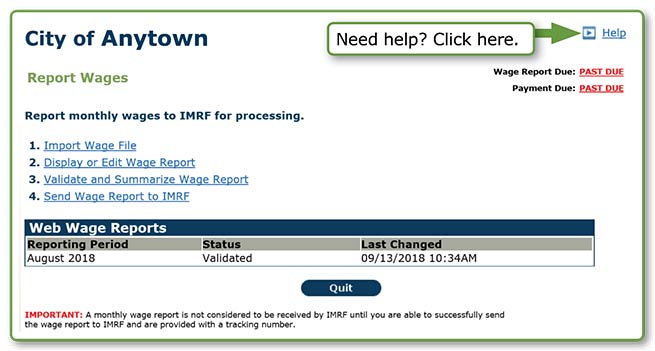 Import Wage File.
Import a Microsoft Excel worksheet containing your detailed monthly report of member wages and IMRF contributions into your IMRF wage report.
Display or Edit Wage Report
With this function you can create a wage report or edit a previously imported wage report for a specified reporting period.
Validate and Summarize Wage Report
This function analyzes the information in your wage reports for completeness and accuracy. When errors are found, it guides you through a step-by-step correction process.
Send Wage Report to IMRF
Once your wage report has been validated, you can send it to IMRF for processing.
View Already Sent Wage Reports
View the content of a previously-sent wage reports by selecting its reporting period.
Wage Adjustments
To complete a wage adjustment, go to your home page and click "Report Wage Adjustment" under the heading "Wages and Contributions."
(Note: Employers cannot simply upload a new wage report to adjust wages, because the wage report file is in a different format. Make sure to use the file format provided on the Wage Adjustment pages.)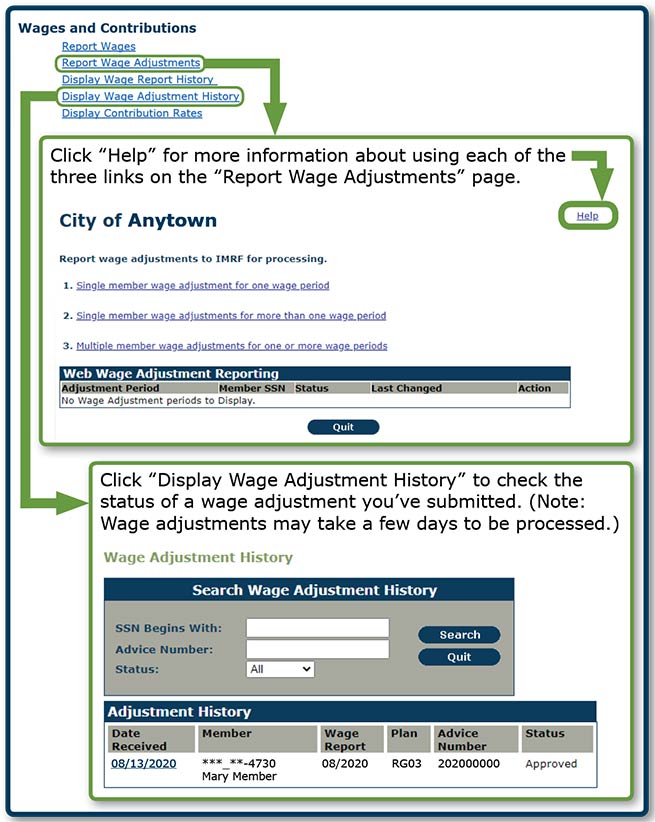 Manage Member
Click "Manage Member" in the Quick Links on the right side of the page to view and change member information. You can also use this page to search for members by name, SSN, and other identification information.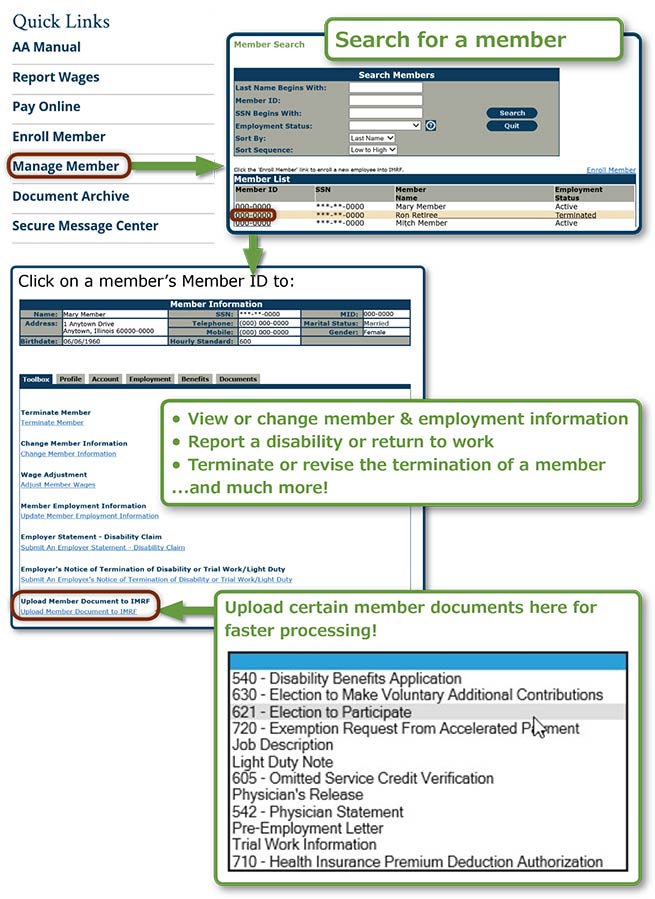 Secure Message Center
Have a question for IMRF? Send us a message through our Secure Message Center, and we will get back to you in two business days. You can also submit forms and documents by attaching them to a secure message—a fast, secure alternative to mailing or faxing them to IMRF.

Document Archive
With the Document Archive function, you can view employer- and member-related documents such as:
Report for Return to Work Retirees
Monthly Wage Deposit summary
Accelerated Payment information
Enrollment and termination forms
Wage and/or contribution advices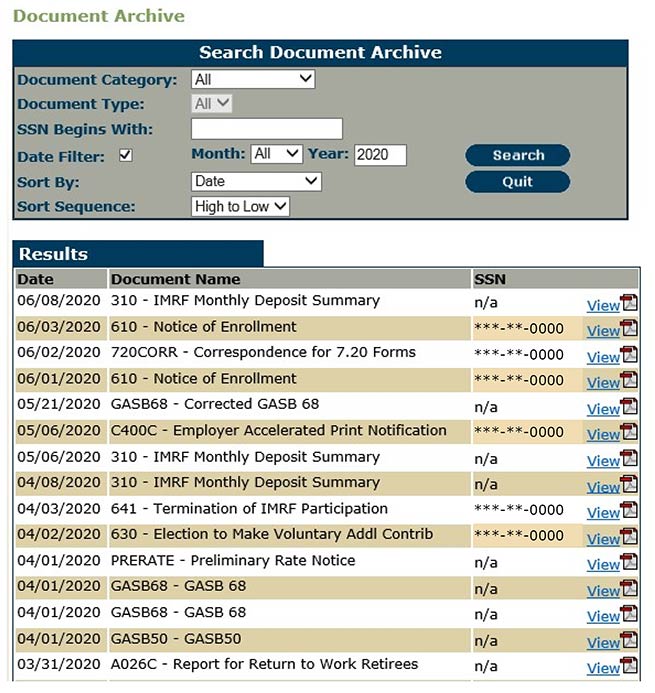 Annual Documents
View the following documents by year with the Annual Documents feature, linked from your Home Page:
Annual Member Statements
Employer Retirement Reserve Statements
Preliminary and Final Employer Rate Notices
Governmental Accounting Standards Board (GASB) Statements
.

Pay Online
Use this Quick Link to make payments to IMRF. It takes you from IMRF's website to a third-party website, First Data Government Solutions (govone.com).
If you need help using this website to make payments, call First Data Government Solutions at 1-800-662-6311. If you need help with a forgotten password, call 1-800-281-6570.
Click here for more information about making payments to IMRF.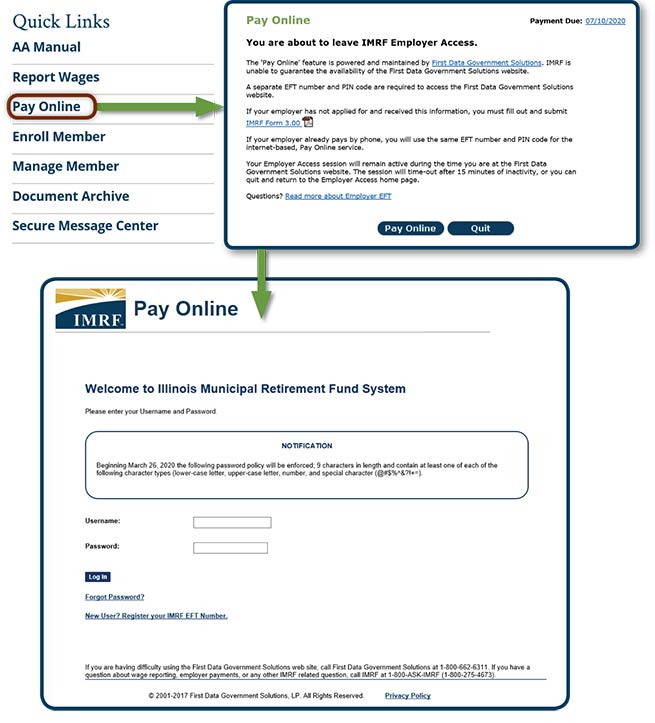 Setting Up a New Authorized Agent Account
When an old Authorized Agent leaves your employer, the new Authorized Agent will need to set up a new account.
Once your board of trustees names a new Authorized Agent:
The employer must complete and return Form 2.20
IMRF sets up the new Authorized Agent based on that information.
The new Authorized Agent can now register for an Employer Access account. Click "Employer Login" at the top right of www.imrf.org. Follow the prompts to complete registration.
IMRF will send you your confirmation code by mail.

Can other employees use my Employer Access account?
You should never share accounts, even within the same employer.
If other employees assist in the administration of IMRF, the Authorized Agent should create "Web Assistant" accounts for them. You can decide which permissions to grant them.
You can also appoint one of your Web Assistants as a "Security Administrator" to handle the creation of additional Web Assistant accounts.
Why create Web Assistant accounts?
When you log in to Employer Access as the Authorized Agent (or with any account), you are identifying yourself to IMRF as that person.
Creating Web Assistant accounts protects both the Authorized Agent and the Web Assistant. When you create and use Web Assistant accounts, it creates a proper record of the person who submitted the information to IMRF, should there be any dispute.
What if I'm having trouble accessing my account?
If you know your User ID, click Forgot Password to initiate the reset process.
If you are a Web Assistant and do not know your User ID, ask your employer's Authorized Agent or Security Administrator to provide it to you. Users in these roles can view, activate, and deactivate online employer account profiles. If you are the Authorized Agent and do not know your User ID, you must register for an Employer Access account.